Historical Thermal Baths
26 March 2012
26 Comments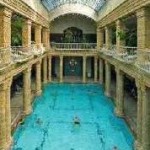 As mentioned in previous blogs, I currently reside in beautiful Budapest. For how long, I don't know, but while I'm here, I've been making the best of it.
Making the best of it?
OMG, what an understatement!
Budapest is such an amazing city that merely stepping out my front door means a remarkable day is in the making. If it weren't enough that my tree-lined street is an enclave unto its own—venerable buildings adorned with statues and all manner of baroque ornamentation, a post office, hair salons, vegetable stands, restaurants, pubs, super market—a couple hundred feet to my right is a trolley stop. Climbing into one of those finicky communist era transports and I'm minutes from connecting to all the efficient public transportation I need.
Turn left out my front door, walk to the end of the block, and there I am, in City Park.
What a grand place!
There's the castle I referred to in a previous blog (photos two blogs down), a lake, a Skating Palace (in summer the water is used for boating), Heroes Square, museums, restaurants, a zoo, and those famous thermal baths.
Did I say thermal baths?
Oh, yeah.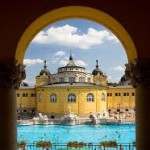 Budapest sits on a huge underground thermal lake so the city is thick with Turkish baths, some of which date back centuries (one has been operating since the 1600's). Stepping into some of them is like stepping into an Ottoman Palace for bathing.
My favorite is the Szechenyi Baths, one of the largest complexes in Europe. And glory be, if it isn't located in the park right down the street from me. A leisurely stroll and there I am, inside a grand neo-Baroque building, circa 1881. Exquisite.
There are indoor pools and outdoor pools at Szechenyi—fifteen to be exact, one of them being an Olympic size pool kept at swimming temperature. My favorite is the huge outdoor pool that roils with clouds of steam when the hot thermal air connects with the icy air in winter.
Public baths are cheap in Hungary, even cheaper if you have a doctor's prescription for things such as an ailing back. For about twelve dollars you can while away an entire day. My favorite time in summer is late afternoon where we laze around until the sun sets and the palace lights up.
Masseuses will crank your muscles every which way for not much money, and there's a bar there should you thirst for anything from water to mixed drinks.
Listen in on conversation around you and you'll hear a cacophony of languages. People come to Budapest from all over the world, some just for the baths. I once met two Americans and started up a chat (not very difficult for me to do, hehehe). Turns out the men have been friends since elementary school. One is a pilot, the other an officer in the military stationed in the Middle East. They arrange for their R&R's in Budapest and take the baths on every trip.
Budapest should be on everyone's bucket list make that "to see" list (I really don't care for the other phrasing). What a city!
Where's your favorite city or what city have you visited that has its special magic?
If you have time, take a look at this website with all the photos of Szechenyi Baths. http://www.budapestgyogyfurdoi.hu/en/szechenyi/virtual_tour#