Women's Clothing in Communist Hungary
What a thrilling experience being a 2012 Golden Heart® finalist has been so far! And as I journey toward the Romance Writers of American® National Conference in Anaheim, California this coming July, the excitement builds. I belong to an online group of finalists where we share news, build friendships, and glean information from those who've traveled the Golden Heart® road before us. What kind of clothing should we consider was one of the first questions raised, especially with regards to the formal awards ceremony where the Rita® and Golden Heart® finalists will be honored and the winners announced (truly, we've all won just by being nominated).
For the most part, the conference calls for business casual, except for a few cocktail parties and the awards ceremony with over two thousand people in attendance. It's those dressier events that have me thinking about what to pack for the long trip. Particularly since I live and shop in Budapest, where vestiges of the old communist way of life still lingers—in little ways and in some big ways (one of which is how business is structured—very odd for a westerner, like being handed a square wheel).
Even though there are several large and very modern shopping centers in the city, I don't particularly care for the style of evening wear available. There are basically three ways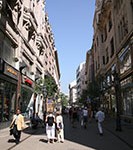 to go: Expensive, over-the-top designer fashions found in the upscale shops along touristy Vaci Utca, or daring little bits of cloth for the younger woman in trendy shops, or rather matronly-looking clothing.
What to do?
Recently, I was lamenting my dilemma while at my regular Thursday coffee with my international group of women friends. Jane suggested I catch the train to Vienna for some great non-stop shopping. Oh, I'd dread doing that. It's only a 2 1/2 hour train ride, but ever since my younger days, working as a sales rep for Clairol Corporation and hoofing it in and out of stores all day long, I detest shopping, particularly running around to unfamiliar shops.
Another acquaintance, an Australian married to a Hungarian, suggested I find a photo of something I like and she'd refer me to a Hungarian dressmaker.
I wrinkled my nose. "Have something stitched up?"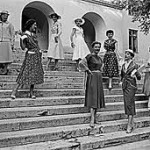 "These dressmakers can copy anything," Marilena said. "Back in communist times they had to make everything. They're so good at it, you won't be able to tell from the original."
"Why did they have to make their own?" I asked.
Another woman, a Canadian, who has lived in pretty much every corner of the world said, "Because, until after the 1956 revolution, there were no dress shops for women."
What? Now there's something I never thought about having to do with political regimes. No clothing stores for women?
She went on to explain that retail clothing stores were only for men until the 1956 upsrising against communist control changed a few things.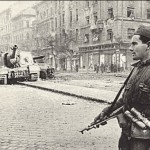 That was even more puzzling. What did the revolution have to do with women's clothing?
 My friend said that even though the Russians sent in an army of tanks and beat the dickens out of the city and its people, a strong message was sent to Moscow that Hungarians were willing to fight to their death against oppression. So, while freedom was still not theirs to be had, a slightly different kind of communism arose. It was given the nickname "goulash-communism." From then on, Hungarians lived under a more liberal political umbrella than did other Russian satellite countries (but don't be fooled into thinking spying, cruelty and oppression fell by the wayside. It did not).
One eventual change was the opening of women's clothing stores. A woman no longer had to make her own garments or hire someone to do it for her. The trouble was, there was only one dress pattern! That's right, in the entire country of Hungary only one ready-made style was available. And according to my Canadian friend Jackie, who lived here at the time, it wasn't a pretty sight.
But wait…there's more.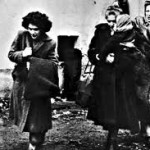 One boring design wasn't the worst of it. Each size was one color! So, say you wore a size eight and you ventured into a clothing store, you could only get that one dreary style in orange. Size ten? You'd get the same lackluster rag in black. Size twelve? You'd get green. And so on.
Frightfully thoughtful of those bureaucrats in Moscow, wasn't it?
No wonder women's fashion magazines were smuggled in from the west. No wonder dressmakers were so good at copying anything from a picture and remain able to do so to this day.
Then the wall came down in 1989 and communism was no more.
Freedom!
And free enterprise.
And the British.
They came in droves. They opened up pubs—English, Irish and Scottish. And used clothing stores. Just as they shipped in Guinness and good Scotch whisky, they shipped in second-hand garments by the ton. To this day, pubs thrive in lively Budapest, and you can still see those same used clothing stores everywhere with a colorful British flag

emblazoned on the front window.
Yes, I'm busy hunting for evening wear for the RWA® awards ceremony. Or should I say, I'm in the fabric stores hunting down the prettiest fabric I can find, and I'm on the internet looking for a photo of something I favor. My friend has the dressmaker lined up. I can hardly wait.
Or maybe I should have booked my flight into the U.S. a week earlier.
What about you, do you have any fun stories about shopping for something special?