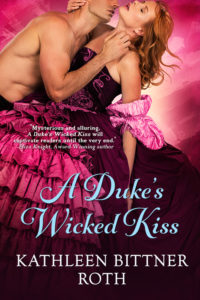 His smile alone suggested all sorts of mischief
Miss Suri Thurston, illegitimate daughter of a duke and high-caste Indian royal, travels to India to confront a malevolent grandmother, and encounters a man who, ten years prior, left an indelible imprint on her soul. As covert head of the Queen's Foreign Service, the Duke of Ravenswood's duty is to prevent a mutiny, but when Suri appears in a Delhi ballroom on a mission that wreaks havoc, he is forced to intervene, only to find his heart forever bound to hers. While their love can rise above the scandal of marriage, will deceit and treachery tear their world apart?
ISBN-13: 9781622663637
Available from Entangled Publishing
Buy the Book
Duke's Wicked Kiss was an RWA® Golden Heart® Finalist
Praise and an excerpt for A Duke's Wicked Kiss
"A Duke's Wicked Kiss will captivate readers until the very end." Award winning author Eliza Knight
It's an engrossing story about families, spies, love and loss, all this happening among the troubles in India under British rule in the Victorian era. The characters are well-rounded, complex, and Ms. Bittner Roth stays faithful to the traditions, the sensibilities and the language of the era. It's superbly written, captivating, and in my opinion, has all the makings of a classic…Monique Daoust
Kiltsandswords
An amazing book! It took me a while to get to this book and I am kicking myself for not reading it sooner. This was such a wonderful book. My emotions ran the full gamut – fear, happiness, frustration, disappointment, elation. The story is so masterfully told that you feel that you are in the great palaces of India, the lush fields of England and in bed with these two lovers.
Amethyst Daydreams
I loved every moment of this book and found the ending to be immensely satisfying.
Here's an excerpt from A Duke's Wicked Kiss leading up to that first kiss:
Curiosity could be a powerful little beast at times. Besides, Suri was never one to back down from a challenge. Slowly, she tugged at each gloved finger. Tossing her gloves aside, she extended her hands.
Instead of clasping them, he kept his gaze steady on hers as he, too, did away with his gloves and threw them on the hay. "Breathe, darling," he murmured and stepped closer. "Ever so slowly, so as not to faint in my arms."
Her lungs quivered. She caught his scent—male musk with a faint hint of bergamot, and it held her immobile. "You are beyond arrogant, sir."
"No, merely knowledgeable." He enclosed her cold fingers within his hot hands.
His touch could have been a naked embrace for the shockwave it sent screaming through her body. Good heavens! She took that slow breath, as much to fill her exhausted lungs as to steady her knees.
Cradling her upturned hand in his, he exposed her wrist. "Never allow a man access to this pulse point." His voice had grown husky.
"What pulse point?" She was afraid to look.
"This one." He bent and pressed his warm mouth to her wrist, swiped it with his tongue.
Her head buzzed as a rage of passion swept through her. Nothing in the world had ever felt so delicious.
His tongue swept her wrist once more.
Hot. Her skin was about to burst into flames.
She blinked furiously to keep her eyes open, to keep from swooning. She wanted to shout, "Again!" but said nothing, only stared at him.
"And never allow a man access to your palm." His words were liquid velvet now, and she knew the direction his lips were headed. She closed her eyes as he buried his mouth in her palm and swept his tongue in tiny circles.
The air burst from her lungs. "You are quite mad, sir." Nonetheless, she stood there, incapable of removing her hands from his. Where Marguerite stood, Suri did not know, did not care. All she knew was that this man's head was bent over her hands, and his hot mouth was the devil's playground, licking fire through her veins.
And then he did the most outrageous thing—he took her thumb in his mouth and sucked.
Her world exploded.