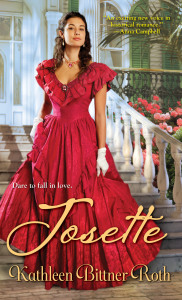 JOSETTE When Hearts Dare book 3
"Monsieur Andrews, welcome to my home."
At the smoky, velvet sound, Cameron swung around. Every function in his body—heart, breath, blood ceased to function.
She was lovely. More than lovely.
Tendrils of raven hair framed a face so exquisite, it disarmed him. Her mouth, a soft, dewy pink, parted. And those eyes, as dark as Creole coffee, intelligent and assessing, roamed over him and then back to take hold of his. He needed to step closer, to stroke her skin. To possess her. But would his wealth and worldly experience be a match for the free-spirited Cajun-born widow?
Across the oceans, between worlds old and new—two lost souls find themselves at a crossroads.
ISBN-13:9781420135329
Available from Kensington Publishing
Buy the Book
Praise for Josette and excerpt: "Josette is a story as steamy and fascinating as its setting of New Orleans. Kathleen Bittner Roth is an exciting new voice in historical romance." Anna Campbell, award-winning author of WHAT A DUKE DARES
Excerpt: The moment Josette opened her front door Cameron knew he should never have accepted the invitation to dinner. She stood there, a goddess in peach silk cut so low a saint couldn't help but gawk. One glance and his flesh rebelled against any resolve to remain neutral. Worst of all, his eyes failed to obey his command and flickered not once, but twice over the top of her gown. And his mouth—curse the beggar for wanting a taste of that creamy-looking skin. Well, his traitorous body could bloody well go back into hibernation because laying so much as a finger on her was out of the question. A flash of puzzlement crossed her features. Merde, how long had he been staring? He cleared his throat. "Did you receive the note I had sent ahead informing you I'd be a couple hours late?"
"Indeed." She stepped aside and bid him enter.
Her ethereal scent nearly did him in as he walked past her, but then the spicy aroma of Cajun cooking hit his nostrils and precious childhood memories slammed into him so hard, he nearly stumbled. God, he missed that long-ago way of life. "Your pardon for my delay."
He handed her a velvet sack containing the bottle of rum he'd promised—or threatened her with—depending on how one viewed the matter.
Josette openly perused the length of him. "You obviously made a stop at your tailors. You must feel more comfortable in your lighter weight clothing. It becomes you by the way."
He gazed into those luminous eyes as if they were magnetic, slowly drawing him near. He now stood too close. And there was the problem. Either that or he shouldn't have added rum to his lemonade. Probably shouldn't have drunk three tall ones before setting out, either. Damn, she was beautiful. He managed a step back, as if doing so would set a new level of self-discipline. Odd, but this close, she somehow seemed familiar. Had to be because of her sister. No, Madame Olympée said the two looked nothing alike. He glanced around the entry, at the gilded Ormolu table festooned with flowers, at gold-framed oil paintings hung against pale, damask-covered walls, all in a vain attempt to ignore the essence of one stunning woman.
He gave a nod to Vivienne who stood behind and to the side of her cousin, a vague smile tilting her mouth. "Evening."
Josette handed her cousin the bottle of rum. "Would you mind taking this into the parlor, then join us for dinner?"
"Oui," Vivienne said, and disappeared.
Josette turned to Cameron. "Régine, my other cousin, has dinner at the ready. If you'll follow me."
He walked alongside her and tried like hell not to glance her way. With his height, even a brief glimpse meant looking down that blasted bodice. His nether regions saluted him and begged for a peek.
"Very nice," he said when they entered the formal dining room. Old Louis LeBlanc couldn't possibly have had a hand in this kind of decorating, not with the lace tablecloth, French chairs upholstered in velvet and walls painted in a bold trompe l'oeil of green ivy, colorful flowers and, hell, even butterflies that looked amazingly alive. He drew out a chair at one end of the table for Josette, but instead of properly seating himself to her right, he helped Vivienne into that one and chose an empty chair opposite Josette. He'd be facing her straight-on all evening, blast his lust-filled heart. Not even the bowl of fresh flowers sitting low in the center of the table was going to obscure his view.
Flickering candlelight from the chandelier danced across Josette's dark hair and played over a mouth tilted at one corner. What was that about? Did she have her own secrets? She glanced up at him, as though she'd read his thoughts.
The woman was sultry as sin and didn't even know it.