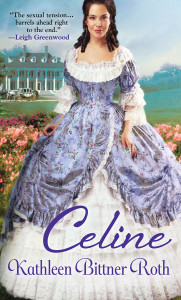 When Hearts Dare book 1
He stepped off a jewel of a sternwheeler onto one of the most beautiful plantations in all of Louisiana.
And into her life.
She would never be the same.
From Plantation era New Orleans to the untamed American West, here is the sweeping, unforgettable tale of a headstrong young beauty and the man she is destined to love.
ISBN-13: 9781420135282
Available from Kensington Publishing
Buy the Book
Praise for Celine and read an excerpt:
"The sexual tension barrels ahead right to the end."  USA bestselling author Leigh Greenwood
Booklist
"Roth's evocative writing creates depth of character in her protagonists and interesting secondary figures all portrayed within a vividly detailed historical setting….This is a promising series."
Publishers Weekly
08/25/2014 In pre–Civil War Louisiana, Celine Kirkland is grieving the death of her husband and unborn child. She finds refuge at the plantation home of the Andrews family, but is thrown off guard when ladies' man Trevor Andrews comes to visit. Celine worries that if she succumbs to her powerful attraction to Trevor, she would just be another of his many conquests, but as she discovers the man beneath Trevor's arrogance, she can't help falling in love with him. Meanwhile, she inadvertently starts a rift between Trevor and his cousin Cameron. Roth (A Duke's Wicked Kiss) creates an admirable protagonist in Celine, who is more than a simpering Southern belle. Celine hasn't forgotten her humble beginnings and is determined to exercise her independence in a society where women have few rights. When she decides to make the long and dangerous trip to California, her strength of character grows. The complex characters and rich sensuality make this a story to be savored. Agent: Jill Marsal, Marsal Lyon Literary Agency. (Oct.)
 RT Book Reviews
"What happens when Roth merges Gone with the Wind with Rosemary Rogers' Sweet Savage Love and Janelle Taylor's Gray Eagle saga? A classic '80's style romance…Top that off with sizzling sexual tension, misunderstandings and jealousies and Roth creates a romance that's nostalgic and fun for long time romance readers."- RT Book Reviews
EXCERPT:
She smiled to herself, still staring intently out the window at nothing in particular when something startled her attention back to the moment. She turned and looked straight up into the beguiling face of Trevor Brandon Andrews.
The man stood before her, his booted feet planted slightly apart, fists on hips. "Lost in thought?"
Celine's mouth turned to cotton. She swallowed hard. Whether she was widowed or not, how dare he enter her quarters without permission? She stood and faced him, aloof and unwavering. Oh, God, they stood so close. He smelled of sandalwood and musk. And . . . and of a delicious body heat that nearly dizzied her. She gazed into midnight eyes framed with thick black lashes.
Something flickered in them, some knowing or realization that set her heart reeling. She tore her gaze from his only to survey his full, lush mouth. The strange smoldering that had nearly burst into flames on the balcony swept through her once again. Surreptitiously, she clasped her hands in front of her to prevent their trembling and diverted her prurient thoughts.
When she forced herself to look back into his eyes, she wasn't quite sure what she saw, but there was a curious edge to them now. And mischief?
"I thought I had better see for myself this fair maid I've been hearing about. Seems you've charmed my family so entirely, I've been ordered to keep my distance." One corner of his mouth lifted. "Mustn't sully your propriety with my presence, you know."
Oh, Lord. His voice, rich and husky, vibrated right through her. She prayed her vocal cords worked. "I do not know what you mean, sir." Glancing over Trevor's shoulder, she spied Marie standing in the doorway, arms crossed and a scowl on her face.
Trevor followed her gaze. "Nothing to fear, Marie, she's safe."
The maid tapped her foot. "I came to see if you be needin' help with your things in the other room, Mister Andrews."
Trevor's brows furrowed. "Oh, so now I am mister instead of mischie?"
He returned his attention to Celine. "Seems you have enough pull around here to get whatever you want, including my quarters, whilst I'm hustled off to the guest room by a sullen maid with whom I have quickly lost favor."
His mouth eased into a slow, seductive grin. Celine's heart pounded out a nervous tattoo in her throat. His gaze settled on the small vee in her neck where her blood pulsated. He sees. Fainting dead away would work. She'd be out of her misery, at least.
He tilted his head. "On second thought, right next door in the guest room may not be so bad, after all. If you need anything . . ."
He issued a throaty laugh, raising one eyebrow slightly as he reached for her hair. Long, tapered fingers gently flicked a thick curl resting on Celine's shoulder. His fringed lashes lowered, veiling his dark eyes.
She stood stoically before him, fascinated with what mischief he might be up to. Especially with Marie standing right there. What a bold one he is. No wonder the women were quite taken with him.
Trevor cocked his head slightly to one side, as if he heard her thoughts. He hooked one thumb in the top of his trousers and raised his chin a notch until he regarded her through half-closed lids. The corner of his mouth curled into a sardonic grin. "What's the matter? Don't you like what you see close up as well as when you were sneaking around on the gallery?"
She hadn't expected that. A bucket of cold river water tossed in her face couldn't have shocked her more. Well, she wasn't letting him get to her.
He regarded her from head to toe, mischief skirting his features. "Madam, if you were any more controlled, you'd become a statue."
She stood still and reserved for a second longer, then turned abruptly and went to where one of her shoes lay. She slipped it on and then searched the room.
Trevor chuckled, walked over to the fireplace, and retrieved the other. He blew the ashes off and handed it to her. "My visit might prove to be rather interesting after all." He sauntered past Marie without a backward glance.
Marie stepped into the room. "Told you he could be a rascal."