BACK AT LAST
13 September 2011
35 Comments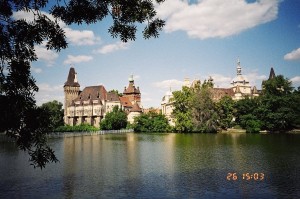 I've been absent from blogging for awhile, so this is going to be a bit lengthy while I explain my whereabouts this past year. Some of you know why I have been missing in action, and some don't. For those who are aware, please bear with me, and then we'll get on with life.
Last summer (2010), I had been living along the beautiful Adriatic Sea and enjoying the heck out of my life. In June, I returned to the U.S. to visit friends and relatives, and to conduct seminars. Topping off my trip was attending the RWA National Conference in Orlando, Florida.
I flew back home via Frankfurt, where my German husband was to meet me, driving up from Croatia. A long trip, but we planned to stay overnight in Stuttgart where his family lived.
When I landed in Frankfurt, there was no sign of Hans. Here was a man who was never late for anything. When his sister and her husband rushed into the airport, I knew something was terribly wrong. They made me sit down before they told me that Hans was in the hospital in Salzburg, Austria following a car accident on the autobahn. I could sense there was more, but at that point, I couldn't even speak. They went on to tell me that a CT scan had been performed to determine the extent of my husband's injuries, and the doctors found advanced stage four cancer throughout Hans's body. What? This strapping 6'4" athletic, tanned and toned Adonis who swam two kilometers a day and walked five was near death? He was too young.
This couldn't be.
It was.
Two months later, he was gone, and I was left alone in Hungary, an unfamiliar country, while I faced a corrupt Croatian government who promptly declared that we hadn't filled out three invoices properly so they would seize my property (I kid you not…this for later). That's how I found myself alone in Budapest where Hans was treated at the famous Semmelweis Hospital and spent his last days in a hospice in the Buda hills. http://en.wikipedia.org/wiki/Semmelweis_University
Numb, I went about the incredibly difficult task of preparing a funeral in a country that still operates business using the old and awkward Communist era methods (I now have Hans' death certificate in five languages). Compounding the problem is the language barrier. The Hungarian language is considered the second most difficult language in the world (next to the many layers of Japanese), and 74.5% of the citizens do not speak English. During this awful time, I remembered others who'd lost loved ones and how they were given professional advice to refrain from making any changes for a year. Odd as it sounds, my instincts told me that I had to commit to spending a year in Budapest.  Wow!
Here I was in a strange country, unable to speak the language, and without direction. But little miracles have occurred in my life, and the year has passed amazingly fast. I don't know how long I will remain here—at least until the Croatian legalities are cleared up—but if I had to be stuck in any city, lovely Budapest, with its remarkable history, is the one to be caught in.
What beauty.
What history.
What ease of mobility (the best public transportation facilities in the world).
What lovely people who have come forward to help me along my difficult journey. (Thank you Elemer for scrambling to obtain a five year visa for me!)
Budapest is the most romantic city I have ever lived in. Heck, right at the end of my street is the city park, complete with a lake, zoo, a lovely fairy tale castle (pictured), and the famous Szechenyi Baths that I dip into every chance I get: http://www.budapestgyogyfurdoi.hu/hu/szechenyi/virtualis_seta
I've made friends here, cried and laughed here. I am not through grieving, and I cannot yet bring myself to change the "About Me" page on this website because it is the last vestige of a lovely life that once was (I have set a goal to change it on October 5th, the one year mark of my husband's passing).
From the beginning of this unexpected journey, I knew that I would hold onto the idea that happiness and joy are mine to be had, but it is entirely up to me to allow these passions to exist in my life.
And so I keep on.
I journaled my way through Hans' illness and passing, and in January, I began to write fiction again. It wasn't easy, but on August third, I completed a Victorian romance. At eleven PM, I wrote, "The End." I sighed and looked up to the ceiling, as if to the heavens, and with tears running down my cheeks said, "There you go, Hans. I did it. You'd be so proud."
 Then, I happened to glance at the date. OMG! August 3rd, exactly one year to the day that I stepped off the plane in Frankfurt—the day my life turned upside down. I don't think it was any accident that I finished writing my story on that particular date. No matter how hard I pushed toward my earlier goal of completion, it wasn't happening, but that morning, it was like a fire was lit under me and there I was…at the end.
Shortly thereafter, I had to travel back to Croatia on legal business—my fourth harrowing trip. I find it difficult to be there any more, where every step I take is a reminder of Hans and of our fifteen-year 'honeymoon' existence. I caught a ride down, but took to the rails on the way back. The trip is lovely by train, the countryside peaceful, with small villages appearing every now and then that seem lost in time. I had a private compartment to myself most of the way—the kind you see in the movies. As I traveled along, I suddenly realized that I was returning exactly one year to the day that I drove Hans to Budapest, never to return. I don't think that was any accident, either. A lot of tears fell after my realization.
Hans' sister died eleven days after he passed, both from the same illness. In less than eighteen months from losing them, I lost a total of five family members on both sides. I'll never be the same again, but I say this with hope and with something burning deep inside of me: I'll have a good life…a life as I choose to make it.
Thank heavens, I don't feel sorry for myself. On the contrary. I feel blessed to have had the time I did with Hans, and that our time together was as good as it was. But now, without choosing this path, I find myself in another chapter of my life. I have opened my arms to healing in whatever way I was meant to, and as I walk around this city, I am often amazed that I, a little girl from Staples, Minnesota, grew up to one day be plunked down in Budapest, Hungary, a place filled with so much beauty, but also filled with so much tragic history it is mind boggling that the Hungarians managed to survive.
I used to teach in my seminars that if you wanted to shake up your ego, move some place where you don't know anyone. But if you really want to give the old ego a complete twist, try moving to where you don't even speak the language. Ha! How about that? Two post-Communist countries under my belt, and with two entirely different languages. I guess I was talking to myself all those years.
Let's see, I met Hans, a German, in a riding stable in Texas (riding English saddle, not western), got married in a castle in Scotland, moved to New York where I ran a well-being center; moved on to Croatia where we played in the sea, and ended up in Hungary, alone and with my roots still in Texas. Is there any hint of a memoir in here? She laughs. I have titled it "Living and Dying in Budapest."
Despite what I have been through, I look for joy in simple, everyday occurrences, including feeding the little ducks that swim about in the water surrounding the castle in the park. I swear they recognize me because they don't swim to other people crossing the little footbridge behind the castle, but when I walk up, here they come! Makes my heart sing. I have immersed myself in this city, in the people, culture, even the incredible architecture (there is something very healing and soothing about buildings to me).
So, there you have it, a mini tour of my world this past year. I hope you'll check in with me as I share my Budapest experiences and my writer's life (I just found out there is an American writer moving into the apartment next door. He's due to arrive in less than a month, can hardly wait to chat).
I have lots to share with you if you care to revisit.
What about you? Can you name a single defining moment when your life suddenly changed? I would dearly love to hear from you. In the meantime, enjoy my favorite musical tour of Budapest:
http://www.youtube.com/watch?v=RqwFvU5vBrA